To add an article, image, or category to this category, append [[Category:Nightborne]] to the end of its page.
"For ten-thousand years, Suramar was the only world we knew. As the ages passed, Azeroth changed around us... and fell into the Legion's grasp. To secure our people's future, you must help reclaim our place in Azeroth. Venture forth alongside new allies and show the world that the legacy of the nightborne is one of nobility... and strength."
—First Arcanist Thalyssra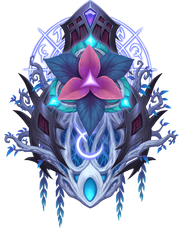 The
Nightborne
(or
shal'dorei
in the native tongue) are a powerful and mystical race of night elves who live in Suramar.
Isolated behind a protective barrier for ten-thousand years, the elves of Suramar grew increasingly dependent upon the arcane magic of the Nightwell. To protect this font of power, the leaders of the nightborne struck a bargain with the Burning Legion that plunged their kingdom into civil war. After fighting for freedom from their demonic masters, the nightborne seek allies to help them reclaim their place in the world.
Trending pages
All items (20)